FOR SALE
SANTANA 25 1/4 ton
FIRST $1500 Takes it!!!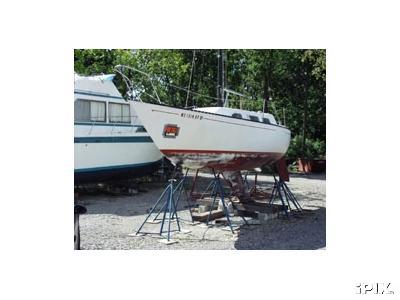 1975 Santana 25 1/4 ton model. Sloop Rig.

LOA- 24'7"

Beam- 7'5"

Draft- 4'0

"

Boat has the following Sails:

Boston Sailmaker #1 Dacron Headsail- Good condition

Boston Sailmaker Spinnaker- Good condition

Hood Sailmakers Dacron Blade- Good condition

Kent Mainsail Dacron- Like New

Kent Pentex/Mylar 155% #1 Headsail- New

Boat does not include jackstands in pictures, it comes with steel cradle which is in good condition. Overall the boat is in good condition, just needs some TLC.

Here is what it needs/what is wrong:

There is a area of soft core in the cabin top (2x2, easy fix, will provide instructions if needed or I can have it fixed for $200 added to the auction price) You could do it for about $60.00

There is a stain on the starboard midsection of the hull. (You may be able to rub it out, live with it, or paint it... your decision. I can have the boat painted for $600 added to the auction price any color you wish.) You could do it for about $150.00-175.00

The boat does not have a motor, but has a custom motor mount. The rigging is in excellent condition. The sheets, halyards and other rope rigging is all in good condition.

The boat has a part-out value of 4330.00. If you are handy and dont mind throwing in a little time, the boat needs 400.00 roughly for paint, fixing the soft core spot, and some other misc. parts if you do it yourself. She doesn't need all that much to shine, The boat is a great deal for a racer, cruiser, or first-time boat owner. She rates 210 PHRF in most areas.

Myself and my partner in the boat start college really soon, hense why we need to get rid of the boat and why it is at such a low price. The boat is sound and could be sailed away today.

Boat is located on Grosse Ile, Michigan. South of Detroit.

E-MAIL

j24gatorbait@home.com if you are interested in seeing the boat or have questions!